See What Our Patient Are Saying About Us
---
Periodontal Reviews
Dennis Bourgeois Feb 2019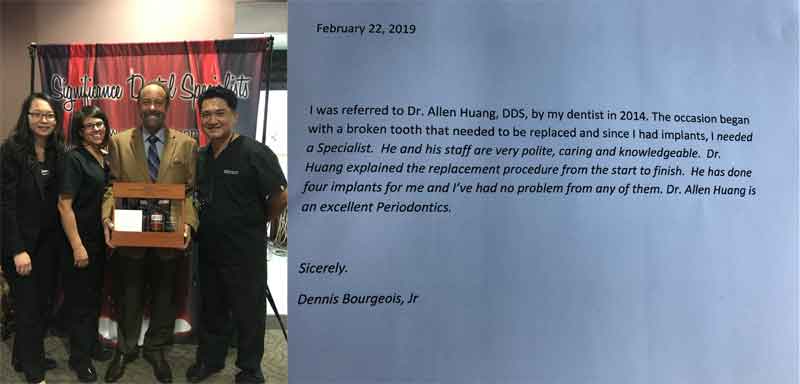 Brian Crow 2 months ago-
Dr. Chen has been amazing. The staff is top notch and have been great to work with. I had a crown problem from another dentist and Dr. Chen has gone above and beyond to help me find the cause of the problem. She actually cares about her patients and it definitely shows.
Ann Marie Cittadino 2 months ago-
They are very nice & professional. Dr Vinne is great. I thought I needed root canal but Dr. Vinne Chen told me she thought it was a sinus infection so she put me on antibiotic for I week when I went back to see her again she did the test again & confirmed it must have been a sinus infection she told me to come back in 6 months or if I had the problem again come in
It does not take long to get an appointment & was you are there you do not have to wait long to be seen.
Pepper Mavis 3 months ago-
Dr. Vinnie Chen was the absolutely best endodontic I have ever had the pleasure to meet. She actually cared about me and made me feel comfortable in her care. Her staff is the friendliest, helpful and caring group I have ever worked with. If I could urge one thing it would be to go to Significant Dental before all else.
Helen Adele Spelts 7 months ago-
I was first seen at Significance Dental Specialists on September 27th, 2017. I was treated very well. Jessica who works in the front office was very informative, professional, courteous and friendly. I also was helped and greeted by Karen when I first arrived and checked in as well. She was very helpful, friendly, courteous and patient with me. When I went to the back to be seen I was taken care of by Sandra who was also kind, helpful and friendly. I am due back again next Wednesday on the 4th for my dental procedure and feel confident that I am in good hands since I really like Vinne Chen, DDS and also believe she is a very good dentist.
Shawn Barnes 8 months ago-
I HATED DENTISTS! I'm thrilled to say I don't anymore, my opinion has been swayed by the warm welcome and personal attention that Dr. Vinne Chen and Dr. Jeff Wang paid to my case, as well as their kind and benevolent assisting staff.
I was experiencing extreme pain from a tooth under my bridge. The rapid isolation and diagnosis, by Dr. Wang and Dr. Chen lead to the quickest most pain free root canal I have ever experienced! (… and I've had 6) I was particularly impressed with how well Dr. Chen and her assistant worked together in flawless motions that wasted no time in getting me out of "the chair". Also, while signing in, I had an issue with my primary dental insurance provider that was quickly handled by their insurance expert in the front office.
I want to thank everyone at Significance for rekindling my hope in the dental community. If anyone needs or is looking for endo or ortho work, please look no further than Significance. I will be back for implants after coordinating a treatment plan with my dentist.
Beverly Young 10 months ago-
Dr. Chen did a root canal on my lower right side tooth. I was concerned that I would lose the tooth, but after her consultation, she was able to save the tooth with a root canal. I appreciate her explaining everything to me, she does excellent work! I recommend a consultation with Dr. Chen if you are having a problem or have an abscess.
Lisa Rodriguez 11 months ago-
Dr. Vinne Chen was great. She's fast and painless with every procedure. She's very nice and explains your procedure from start to finish. I've never had a question afterward or pain lol she has 10 years of experience and her work is quality work. I wouldn't let anyone else touch my teeth!!! Thank you so much Dr. Vinnie Chen!
Rhonda Elvis 1 year ago-
My experience with significance dental specialist was spectacular! All of the staff were very accommodating and very time efficient. Dr. Vinne Chen is very gentle and quick. The back off assistants Sonita and Emily are very cheerful and explained the procedures to me very thoroughly. I highly recommend this office to everyone!
Joseph Gettright 1 year ago-
She was very fast and comforting. I have another root canal that I need to go get which will be with here. She's kind, saved me some money and genuinely cared about my teeth rather than me feeling like it was a sell like other places I've been.
Jason Cunningham 1 year ago-
Vinne Chen gave me an honest answer and told me instead of having a root canal done it would be best to have it extracted to eliminate the issues I keep coming across. She could have taken my money and did it and have it not work but she was extremely honest about the whole process with me.
Glen Sun 1 year ago-
Got referred to this office and was accepted on the same day. Love it! Dr Vinne Chen and her assistants talked to me like friends. She gave me a thorough examination. At the beginning of the root canal process, a numbing paste is applied so I don't feel the usual pain when injections took place. This is new to me, I like it. The treatment is smooth and successful and my pain is gone. I want to give a big thank-you to Dr. Vinne Chen and the assistants! My experience with this office is great, so I give Significance Dental 5 stars.
Bianca Palacios 1 year ago-
Very friendly staff as soon as you walk in. My dentist Dr. Chen was very helpful with the questions I had about what was to be done on my tooth. I hate any kind of teeth pain and she was so gentle I didn't feel a thing. Healing process was fast l highly recommended.
Angela Cain 2 years ago-
Significance Dental is great. The front counter staff always answer my questions regarding my insurance thoroughly. All of the dental staff or very nice and hospitable; they have a great attitude while they are working on you and are attentive to you as a patient. The dentist is very knowledgeable and takes the time to answer your questions about your treatment plan.
Angela Cain 2 years ago-
Significance Dental is great. The front counter staff always answer my questions regarding my insurance thoroughly. All of the dental staff or very nice and hospitable; they have a great attitude while they are working on you and are attentive to you as a patient. The dentist is very knowledgeable and takes the time to answer your questions about your treatment plan.
Helmut Hopfner 5 years ago-
I've been on holiday in LV when one of my tooth started to hurt me a lot. I was referred to Dr. Vinne Chen who detected big damage on the thooth and in the roots. At first an extraction seemed be be the best choice. She was so nice to discuss with my dentist in Germany and e-mailed him the x-rays, so finally an extraction of the tooth could be avoided and her treatment of my x-large root canals was very successful and without any pain for me. After that day I really could enjoy my holidays. Dr. Vinne and her staff are very professional, always friendly and took good care of me all the time. Thanks a lot!
I just love the care my husband was given throughout what seemed like a long procedure. Dr. Huang's skill is exceptional and the staff here make you feel valued. Thanks so much for a wonderful experience!
-M White
He was wonderful he explained everything carefully, that need to be done carefully with my teeth. I can recommend this place to anyone. They will treat with respect and with care.
-E Preston
From the time you walk into the office until you leave, Dr. Allen Huang and his staff are there to put you at ease, treat you with the utmost respect and professionalism and most of all deliver high quality care! Recently I had a dental emergency and my primary Dentist was away on vacation. Because Dr. Huang is familiar with my case, (as he inserted my all on four implants), he didn't hesitate and stepped in to help. He was able to see me within a couple hours, coordinate with the lab and deliver a replacement denture by the next day. To say he went above and beyond is an understatement! I highly recommend Significance Dental Specialists and Dr. Allen Huang…he's a total class act!!
-K Barr
Very accommodating staff. My wife had a root canal done here under Dr.Vinne Chen. My wife was so nervous before the procedure but she said that Dr.Vinne and her staff made sure she's comfortable all through out the procedure and she was so pleased and happy By the way they took care of her. Good Service and very nice people! I highly recommend this place.
-M De Castro
First of all, these guys are best in Las Vegas. Dr. Huang is the most professional dentist I have ever been to and his staff is excellent. Second, you never feel "in the dark" about payment or this process. They walk you thru everything. I hate going to the dentist, but these guys are absolutely incredible and I highly recommend the practice. THEY ARE THE BEST.
-D Clemente
OMG! I can't say enough how wonderful and professional the staff is at this location. I was very skeptical about starting my journey but the staff was very patient and totally put me at ease. I will recommend this office to everyone! Everyone is extremely nice and professional. Thank you dearly
-I Silcott
This year was truly amazing! I love this place. I'm so glad that I came here and got my braces done. I cant wait to get them off but, I cant thank all the stuff enough for there amazing work and for truly making it feel like home for me and my family members . Thank you again.
-J Escalera
The best orthodontist at the southwest so far, they are so welcoming and super nice people, they treated you like you home, so comfortable. Now about the job, is way beyond my expectation, my teeth was capping and now even is been 4 months I can smile with confidently..I am so happy to found you guys.I recommend this place to have your teeth perfectly done with such nice personality people..love you guys and I can't wait for my next visit..thank you so much again..also they offered you snacks, coffee, water and etc..
-F Deme
---
Endodontic Reviews
Norma Aleman  1 month ago-
Doctor Jeff was incredible. My surgery went well he made me feel comfortable through out the whole process. I did not have any pain and was very pleased with the work. This office is awesome and would recommend.
Elba Drawyer  5 months ago-
I love coming to Dr. Huang office. His staff it's very friendly and make you feel at home. Laura his technician was very kind and gentle performing her duties. She knew exactly what I needed and made me feel very comfortable. I highly recommend this office to everybody that have any dental issues. Thank you for a job well done!!
Luiz M  5 months ago-
My mom was well taken care of and the staff answered all her questions and even gave her a great price on all of services, she said she would recommend this place to anyone
Roxanne Lee  5 months ago-
I was referred by my dentist to this practice and Dr. Wang to do a frenectomy. I was quite nervous about the process, but the dentist explained well what he would do, the expectations in regards to healing and his accessibility via phone if I have any questions.
Their staff is friendly, great customer service and positive attitude.
During the healing process, I was told that it would hurt 5/10 with ibuprofen and 3/10 using Norco. I had no pain what so ever. I was quite pleased with it.
I would recommend this place to everyone.
Kim Yang  8 months ago-
Dr. Wang is a wonderful periodontist doctor. Veronica, the Financial Specialist, is amazing. I do not, generally, like dentists but this place is the best. I highly recommend this dental facility. They have done a lot of dental work on me and it couldn't have been smoother. They explain everything beforehand and are honest and knowledgeable at their positions and occupations. I highly recommend them!
Geraldine Crisci  9 months ago-
Staff welcomes you when you come for every appointment. Doctor and hygienists are very thorough, caring, and knowledgeable. Complimentary advice on my home care encourages me to continue the protocol recommended for me.
Sandra Magnotta  10 months ago-
Greatest dentist I have ever seen in Vegas. He really cares about his patients. Gentle and gets excellent results…
P E Kite  10 months ago-
Wonderful appointment with Laura today. I learned a number of teeth maintenance tips that I did not know of. I am very pleased that I was referred to Significance Dental Specialists. Staff very friendly and helpful and have never had to wait for appointment scheduled.
Julie Parker  10 months ago-
I love significance dental! I have been treated so well by Dr. Huang and all his employees, I've had an implant done, I am so very happy with the results, and thankful for such a kind group of people to get me through this transition
Ragen Johnson  1 year ago-
I received a referral at 8:40am from my dentist to Significance Dental Specialist and got an appointment at 9:00am the same day; after the Doctor saw me, I was able to have surgery the following day. The staff, Dr. Huang, and Laura – who did my procedure – were exceptional. They took care of me, there was no waiting (I was in and out in one hour!), and I was in no pain.
I highly recommend Significance Dental Specialist.
**As a teacher, they took my dental insurance. **
Sheri Graham  1 year ago-
Had amazingly good time getting teeth cleaned! Chatting and laughing was a great distraction technique. Most important was the encouragement to keep fighting to win this dental battle. You get so much negative talk in this profession about how bad everything looks, I ended up wanting to give up. But now after dealing with the office staff here I feel like I am in control with options.
Gwyn Niles  1 year ago-
We absolutely loved this office. They were so great with my 12 year old. We would definitely recommend them.
Jen Floyd  1 year ago-
Extremely thrilled with this office! Dr. Huang did the most amazing work on my gums and his staff is wonderful. I highly recommend this office to anyone with any dental needs!
Lucas Lopez  1 year ago-
Yo muy contento muy satisfecho un trato super amable la doctora exelente trabajo!
Ginger Shaffer  1 years ago-
Dr. Huang has been my periodontist for many years. I would highly recommend him to anyone needing a periodontist. We just completed the Pinhole Technique with outstanding results it brought up my gum line to where it looks normal and healthy it's fabulous. In addition, I have my teeth cleaned every 6 months, and the staff are very professional and thorough. I would highly recommend Dr. Huang.
Thien Vy  1 year ago-
Haven't been to the dentist in years. The staff at Significance was very helpful in fixing my inflamed gums. Thank you!